Up until a couple of years ago, I used to go to the gym regularly. (If you are curious why I stopped going, see old blog post
here
). Lately I've been missing the gym, I feel like I have less stamina and even though I'm a size 8/10, I'm feeling some wobbly bits where I shouldn't. For reasons that I quit in the first place, going back to the gym right now isn't an option, but I wanted to start getting some exercise in. So I decided a fitness DVD or two could be the way to go. This way I can fit the exercise around my schedule, cut out the travelling time and the expense of going to the gym.
I bought the Jillian Michael's 30 day shred DVD based on a recommendation from a friend. This was backed up by glowing reviews on
Amazon
as I went to buy it too.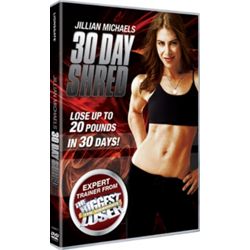 After working out you can definitely feel it. I spent days with aches in muscles I didn't know I had. That's a bit of a tip though, to maybe take it gently for the first couple of times you do this, otherwise you need to rest for a number of days and then can't keep up with the work outs.
There are 3 levels of works outs, each get increasingly harder and each only lasts 20 minutes. That's part of the reason why I went for this particular DVD as time is of the essence for me. Plus, why spend an hour working out when you can lose the same amount of calories in 20 minutes with the right work out? I must admit, I've only braved levels 1 and 2 and yet to reach 3. The thing is I don't workout regularly, I do it sporadically. So I always start with level 1 and then if I do it continuously for a week or so I build up to level 2. But I've never done that for a long enough period of time to build up to level 3 so far.
Last summer I did this for 3-4 weeks in the build up to my holiday in Egypt along with tracking my calories on My Fitness Pal (app) and trying to cut down on my favourite sweet things. I 100% noticed a difference. It definitely increased my body confidence on holiday knowing that I had a flatter stomach and less cellulite on my thighs.
I need to get back in the swing of things with it again right now as we are currently hunting for an August late deal, so I have limited time to get in a decent shape.
What fitness DVDs do you recommend and why?